Event full
So this past weekend was full of all kinds of cool events that I got to partake in, exciting! Friday night I competed in a poetry slam, Saturday I participated in a zumbathon to help raise money for Susan G. Koman fund and Sunday was the birthday dinner of a friend! SLAM So the slam was really fun as usual. It's been a while since I've competed so I was super nervous AND on top of that I'd invited a few friends to watch. Two of them, Diana and Sarah, even got to judge! Check out my friend's blog about judging the slam HERE! Some of them have never heard my poetry let alone see me perform so I wanted to do my best for them.  There were a lot of great poets competing so sadly I didn't make it past the first round but at least I didn't really mess up my poem so that was a plus. I am slowly easing back into the poetry scene, for a while I was present at events but never really participating. That's changing now though, I've rediscovered my love of performing and competing and I can't wait until next months slam!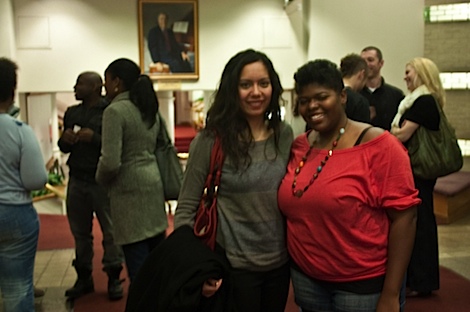 Me and Diana after the slam! (I borrowed this pic from her blog, check it out!)
ZUMBATHON Saturday evening was such a blast! Queen City Dance Out hosted a Party In Pink zumbathon from 7p.m. until 9p.m. at Whiskey River in uptown. It was such a great time! There were vendors selling things like jewelry and ladies handing out samples of perfume. Everyone came dressed in their Zumba gear ready to dance for a cause. There were so many people there, the turnout was fabulous and Queen City raised over $11,000! It was such an awesome event to be a part of, I'm already looking forward to next year's!
Sarah, Shamecia and I in our Zumba Party in Pink gear at Whiskey River!
BIRTHDAY DINNER Sunday was another great event, it was my friend Sarah's birthday! YAY! We went out to CowFish to celebrate with her. It was another enjoyable night and actually the fourth night in a row that the roomie and I spent with Sarah and Diana. So much fun. Going out with the ladies is always a good time. You get to hear funny, sometimes embarrassing stories, learn a few lessons of what to and what not to do in certain situations, you get to laugh and just relax. I am so happy that I got to be a part of her celebration!
So you see, this weekend was jam packed full of greatness! I am so happy that I got to do everything I did. Now it's time to get back to work. I got sick over the weekend sadly so I am really tempted to just crawl back into bed, but I've got too much to do. Stay tuned more cool stuff is coming up!